Artists
Artists of the Month - Click on the Artist below to view their work
My pottery journey started in 1989 with a desire to not have a "real job" while I was pursuing my equestrian career. I acquired a small slip casting business which I hoped would pay the bills while I developed my equestrian interests. Having the equipment to produce pottery enticed me to get a wheel and try my hand at throwing. It didn't take long for my inner creative self to work its way out.
View Artist's Work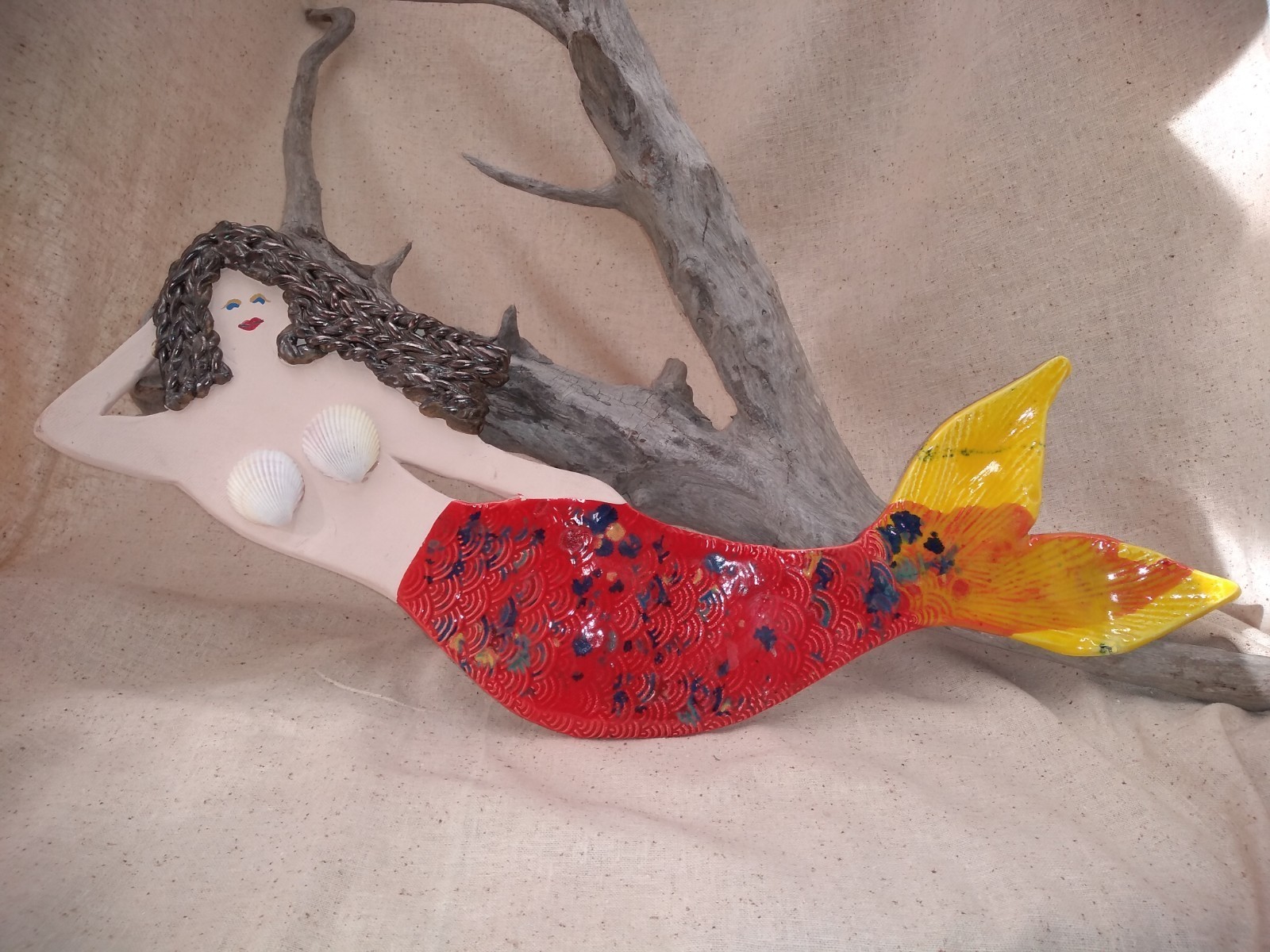 Augusto Argandoña is a well known artist who has gained recognition for his crisp and realistic watercolors. With a degree in Industrial Design from California State University, he has practiced his profession for 20 years all the while pursuing his passion for painting. While working as a Designer he started painting watercolors as a hobby, as his skill expanded, he began doing paintings for relatives and showing his art publicly. The positive response his work received fueled his enthusiasm and in 1990 he began a new career painting full time primarily in watercolors. Based on his formal training as a Designer, Argandoña has developed a distinctive painting style which has wide appeal and provides him with many opportunities to use his talent. His artistic versatility and expertise in the challenging medium of watercolors coupled with his approach at marketing his art has won him a feature article in the June 1992 issue of North Light Magazine, an art publication with national circulation. Previously a resident of East Aurora, NY, Argandoña moved to Sarasota, FL. in 1997.
View Artist's Work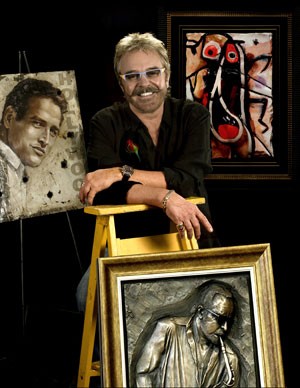 "Calling my artwork bas-relief," Mack says, "is incorrect since bas-relief technically refers to low relief sculpture. My art, in fact, has more physical depth than high relief; it incorporates various elements in full-round rising toward the viewer as in my "Illusion" image where her leg leaves the background extending into space. Technically, sculptures combining various levels of relief and full-round parts are called 'Alto Relief' sculptures.
View Artist's Work
These works are from our clients outside of the Sarasota, Florida Market - Let us know if you're interested in one of these pieces so we can get you a price.
View Artist's Work
Born in Brooklyn, New York, Creaturo has an extensive artistic career. He was a student at School of Industrial Art and at School of Art and Design in NYC. Frank has been recognized with countless awards, featured in many newspapers for his works, has had several one man shows and was even spotlighted on Eyewitness News in New York.
Creaturo has been active in many charity events, he's designed program covers for American Diabetes Foundation, Big Brothers & Big Sisters, and Make a Wish.
In late 2005, Creaturo had one-man shows at the Jewish Community Center (JCC) of Sarasota and at the Shands Teaching Hospital at the University of Florida in Gainesville.
He has a unique style, which shows through in both his contemporary painting and realistic people from the late 1930's to the 1950's.
As for his contemporary works, they're full of colors and movements. He plays with the use of light, shadows and figures and has developed a new and personal style of organization of color.
Award winning international artist Niska, said of his old works, "It really brings us back to a period in time that evokes emotions where everything seemed slower, kinder and authentic. You feel it through the faces, the clothing, and the details given to the background surroundings. BRAVO !!!"
View Artist's Work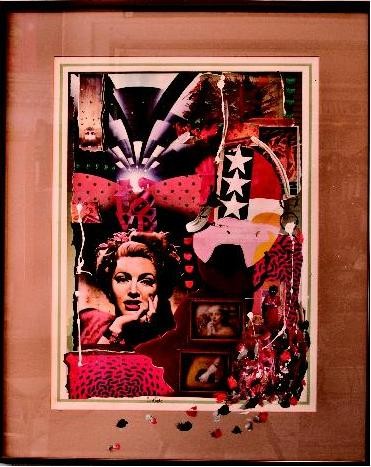 Gail is an elected member of the New Jersey Watercolor Society, the Garden State Watercolor Society and the New Jersey League of Professional Artists and the Baltimore Watercolor Society. She is also an exhibiting member of the Women Contemporary Artists of Florida, Annapolis Watercolor Club and associate member of the Catherine Lorillard Wolfe Art Club of New York City, The American Watercolor Society and a long time member of the NJ Art Educators. Ms White has studied with several prominent New Jersey artists, internationally known artists, and at the Ringling School of Design in Sarasota.
Gail retired as art teacher from Wall Township School District, after having taught in Monmouth County schools for 30 years. Ms White attained her Bachelor degree from the College of New Jersey and Master's degree from Georgian Court University. She currently is a member of the instructional staff at Art Center Sarasota, Florida, teaching watercolor in the fall and winter months. During the summer months, the artist teaches several art classes at the Anne Arundel Community College in Annapolis, M.D. Additionally, she gives watercolor demonstrations and workshops for various organizations and art associations. The artist divides her time between her homes in Annapolis, MD, and Sarasota, FL.
Her painting reflects her active lifestyle and interests, which include gardening, golf, sailing and travel. She finds watercolor to be the best medium to create glowing transparent areas of color. The artist often likes to contrast the beauty found in nature with man-made forms and pattern. She combines a realistic style of rendering images with loose ambiguous passages and use of arbitrary color.
View Artist's Work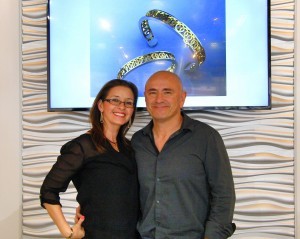 Harry Roa Gallery :: Sarasota Fine Jewelers :: 941-323-1910
Combining his love for architecture & jewelry Harry's designs have won many prestigious awards.
At age 19 Harry found his calling and trained with Master Jewelers and designers while honing his craft.
Specializing in the lost wax process and only fabricating with precious metals he designs and manufactures using novel high quality gemstones.
With his uncanny sense of ergonomics and modern conceptual design ethic Harry's jewelry wears like your favorite jeans with a lot of bling added.
View Artist's Work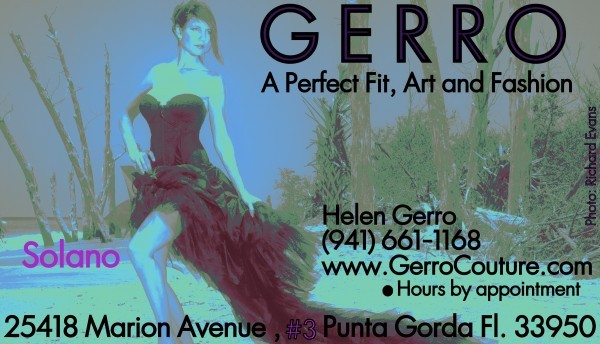 "Be original, have a one of a kind" own a GERRO
Helen Gerro's back ground is fashion design followed with painting art since the eighties, her couture inspired paintings jumped off her canvas's onto her designer fashions. Thus making original one of a kind hand painted postmodern statement making designer dresses which is a piece of art in itself. Gerro's paintings are bold, colorful, figurative, glamorous, whimsical paintings of the female form inspired from being a fashion designer.
Helen Gerro moved to the Gulf Coast of Florida from Minnesota in 2002 getting her creative thoughts on how she could merge art and fashion together by, coinciding her art & onto her couture dresses in which she designs and hand paints in popping colors of day glow, More about Helen on her website https://www.gerrocouture.com/
View Artist's Work
Hugh Davies was raised in Nigeria and England, educated in Somerset and studied fine art at Brighton College of Art and Chelsea College of Art, London where he received his Masters Degree in Fine Art. He has served on the faculties of distinguished institutions including Chelsea College of Art, Oxford University, the University of the Arts, London and Ringling College of Art and Design, Sarasota FL.Davies' work has been exhibited in more than 60 group and solo exhibitions in significant galleries and museums internationally.In the United Kingdom these include Redfern Gallery, The Royal Academy, The National Museum of Wales, Bradford City Museums, The Gulbenkian Gallery, The National Portrait Gallery, and Walker Art Gallery and Museum. His paintings have shown in Paris (Galerie Sabin Herbert), Berlin (Raab Gallery), Johannesburg (Everard Bearne Gallery), Perth (Western Australia Museum of Art) and galleries throughout America including Allyn Gallup Contemporary in Sarasota, Hal Katzen Gallery NY, Longstreth Goldberg Gallery in Naples FL and Museum of the Arts, Sebring FL.
View Artist's Work
Jack Dowd's infatuation with the arts began early. He was born in New York in 1938 and as a young person growing up in the 1940's and 50's, he enjoyed many of the advantages of being in the exciting art capital of the Post-War world. In addition to the exuberant experience of exploring the new ideas of the avant-garde art produced in the city, Dowd attributes the influence of the great American films of that day with igniting his imagination and firing his quest for adventure.
In his early career, Dowd pursued employment that enabled him to travel and he chose both exotic and not so exotic places for his work. The experience of meeting and working with many different people helped him develop an insight into the human psyche that serves today to allow him to endow his sculpted figures with humor, sensitivity, pathos, satire and even hubris.
View Artist's Work
A native Minnesotan, but my soul comes from Hawaii, the tropics and the ocean.... My art shows in private homes and businesses in many US states, coast to coast, and in Australia, Europe and Canada. I've sold about 900 pieces.
I exhibit twice annually at my home gallery and show by appointment. I've drawn since a young child.... and painted for the past 30 years, continually becoming less and less structured. My art is abstract design, very bold texture and expressive. To me, it is very spiritual.
I generally paint with acrylics and a palette knife, often using genuine gold, silver or copper leaf. Common interpretations are water, sailing & marinas, forests, evergreen trees and abstract florals. Colors tend towards greens, blues, purples, reds, black, natural and metallics.
View Artist's Work
"Art has always lived in within me. It makes its way out of my psyche in so many
ways. Various subjects in nature, in space and the cosmos, combined with my imagination have motivated me to continue to sharpen my artistic abilities. I find that acrylic, collage, and mixed media are my favorite materials to work with. Some of my pieces are completely abstract while others are a mix of both abstraction and realism. My compositions come alive with colorful shapes and characters within mysterious environments. Each work tells separate magical stories of their own."

"I am a retired High School art teacher of 25 years originally from Maryland. My husband Dan and I moved to the Sarasota area in 2014. Never in my life have I been so affected by the sun's light, the sunsets, and sunrises until we settled here. The beauty of the Florida sky, the flora and the fauna has made such a positive impact on me and my art. My years teaching and challenging students to express themselves also continue to be a source of inspiration and passion in my own work."
View Artist's Work
For as long as I can remember, I've wanted to see the human experience through the biggest possible lens. What are the commonalities of our species? What is unique? My dread is to wake up one day and realize my world view is a shriveled fearful thing. There are others out there with the same desire/dread--I know because I've met some of you; and would like to meet more. So this website is for us.
Here you will find connections that have been useful to me. You can:
Participate in a generational adventure with a village in Africa which is emerging from poverty.
Learn about the parenting crisis in the West and be part of the solution.
Get beyond comfortable platitudes regarding the poor.
Grow in spirit, (I'm a Christian, but I promise to be non-judgmental)
Finally, you can buy art. Most of the original art has sold; however reasonably priced fine art prints are available in various sizes and formats. The common theme is the monotony of life in a foreign culture, whether that culture is at home or across the world. The hope is that in some non-verbal way the art will expand our perspectives.
View Artist's Work